Our Fav Products
All products are available to buy in clinic or can be shipped New Zealand wide.
Products can be purchased in store or send us an email for any web purchases.
Shakti Mat - Original | $69
Various forms of acupressure have been around for thousands of years. The Shakti Mat simply allows for easy self-treatment at the price of a single massage.
This Shakti Mat Original features 6,000 spikes and is recommended for 90% of people. Lie, stand, or place the Mat under any part of your body and let the acu-points apply pressure to your skin and muscles.
The Shakti Mat supports:
- Deep, restful sleep
- Healthy circulation
- Relaxation of tense muscles
- Recovery from headaches
- Overall well-being
Supported by medical professionals, high-performance athletes, and 6,000 five star reviews.
We offer a 60 day money back guarantee.
Available in Orange & Black
Please note that Happiness Bags are sold separately.
Aotea
Kawakawa Balm | $15.50
This lil' multi purpose soothing balm is based on traditional use of Kawakawa for irritations, abrasions and pains. Kawakawa leaves have a super high anti-inflammatory, anti-bacterial and analgesic content making it an amazing balm for all sorts. With Almond and Tea Tree Oil, and some beeswax from Aotea's own hives, this Kawakawa Balm is the natural and native skincare remedy perfect for dry lips, skin irritations (like eczema), as well as bites, sores and nappy rash.

*We use organic Kawakawa leaves that are infused oil in our Mamae aromatherapy oil*
Camden Co. Velvet Wheat Therapy Bag | $45
Handcrafted in New Zealand from locally grown wheat and locally sourced fabric, these Wheat Bags are a must have around the home. Camden Co's iconic scent infused with Sweet Orange and a hint of lavender.
Camden Co Therapy Wheat Bags soothe aches, pains, sore muscles and tension around the neck and can be used hot or cold. They are a great alternative to hot water bottles on cold days and chilly evenings.
Made by a Samoan Coffee Scrub | $25
I'm a rich body scrub packed full of natural antioxidants. It's my job to get rid of dry skin and moisturise at the same time.
Local roasters L'affare share the love with their organic coffee beans from Peru.
Use this lil' bag o' goodness in the shower 2-3 time a week on clean skin & rinse well.
100% natural, vegan & always cruelty free.
NZ made!

*available in coconut or lemongrass scents.

What's Inside:
Organic Fairtrade Single Origin Coffee Beans (Peru)
Organic Fairtrade Golden Raw Sugar (India)
Organic Raw Virgin Coconut Oil (Samoa)
Natural Extra Virgin Olive Oil (NZ)
Natural Vitamin E (Argentina)
Spikey massage ball | $15
Do you suffer from chronic pain or have a few trigger points knocking about? Then this is the spiky guy for you! I find this product extra beneficial for tight shoulders/traps. Using this in conjunction with a massage therapy maintenance programme will help keep those annoying aches and pains at bay in between sessions.
Directions: This can be used by sitting or laying on it, I also like placing it between me and a wall and rolling as needed (kind of like a bear attacking an itch). Once in the spot that causing discomfort simply roll around, up, down, around, side to side, diagonal, there's no wrong direction.
Click here to see our favorite areas to focus!
As with any product, if you are unsure if you're using it improperly ask the pros (your MT) for some pointers. If you feel like this is causing you more pain that relief to the area, chances are you're not on the right spot.
This works gang busters on your neck, traps, entire back, glutes, legs and even feet! It's small enough to pop in your gym or travel bag.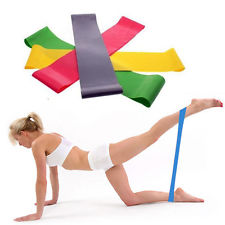 Elastic resistance bands | $8 per metre
100% Brand New And High Quality
These bands are suitable for Yoga, Aerobics, Fitness, & rehab purposes.